14.02.2010
PUPPIES HAS BORN
On Sunday 14.th on Valenine's has born 6 Gima's and Lucky's puppies. We have one male and 5 females. Puppies are big, strong and looks very sattisfaed :-).

08.11.2009
WORLD DOG SHOW BRATISLAVA:
On The World dog show Lucky has got excelent, CAC, reserve CACIB!
Gima has got excelent
Homer Pikimusta, son of Lucky and Caroline has got excelent, res.CAC. We are proud of him and his owner :-)

More photos on: nejenlajky.rajce.idnes.cz/World_Dog_Show_2009/ and on my facebook Jitka Dopitová

17.-18.05.2009
INTERNATIONAL DOG SHOW BUDAPEST:
Lucky 2xCAC, CACIB,BOB
Gima CAC,CACIB,BOB

17.-18.05.2009
NACIONAL DOG SHOW OSTRAVA:
Lucky CAC,Nacional vinner,BOB
Gima CAC,Nacional vinner
Best couple 1.place Jupiiii

17.-18.05.2009
NACIONAL DOG SHOW NITRA:
Lucky V1,CAC
Gima V1,CAC,BOB

11th October 2008
Gima gave birth to 9 puppies: 3 males and 6 females. Puppies are nice strong and full of power.
More about puppies you can see at section Puppies

WE ARE TAKING ORDERS.
FATHER IS OUR ICH.,CH. CZ,SK,PL BJORNEHUSETS LUCKY MOTHER IS OUR CH.CZ,SK,PL GIMA PIKIMUSTA

03.11.2007
INTERNATIONAL HUNTING TRIALL OF WILD PIGS: We tried pass this hunting exam where are really hunted wild pigs, the is tracking of shooted pig, test of agressive to wild pigs and more discipline. Lucky was working great, so he succesfully passed this exam at I.price with 182 points and has got CACT,CACIT. We are again so proud of him!
Pictures from this hunting triall you can see here:album

03.11.2007
INTERNATIONAL DOG SHOW NITRA - SLOVAKIA: Gima got CAC,CACIB,BOB

20.-21.10.2007
2 DAYS INTERNATIONAL DOG SHOW BUDAPEST - HUNGARY: Gima got 2xCAC,CACIB,BOB.

09.10.2007
We added new link to photoalbum of our last puppies how they grow up at their new homes. You can see it at "puppies"

07.10.2007
INTERNATIONAL DOG SHOW CESKE BUDEJOVICE: On this show we entered only Gima. She got CAC,CACIB.

30.09.2007
INTERNATIONAL DOG SHOW WROCLAW - POLAND: Lucky got CWC,res.CACIB, Gima got CWC. There was Cedrik Pikimusta too, Cedrik got Best Veteran.

29.09.2007
Hessy Pikimusta, puppy from our last litter who lives at Danmark was on here first dog show at puppy class. Hessy got Very Promising, Best puppy. Well done, Hessy, it's great start! :o))


15.09.2007
KBD's and laika's KLUB MEETING KOSTELNÍ STŘÍMELICE: we met our dog friends from our klub and trained tracking of wild pigs. We could try to behaviour of our dogs when they meet alive wild pig. Lucky and Gima anyoed this meeting very well and specially Lucky loved barking of wild pig. How Lucky and Gima was barking you can see here, unfortunatelly pig is not so good seen:


18.-19.08.2007
TWO DAYS INTERNACIONALL DOG SHOW BRATISLAVA: Gima got 2x CAJC and she become JUNIORCHAMPION OF SLOVAKIA.
Lucky got 2x CAC,CACIB,BOB.
On this dog show was Lucky's nice daughter Ambra Pod Troskami and she got 2xCAC,CACIB.

07.08.2007
GIMA has got diplom of JUNIORCHAMPION Czech Republic.

23.06.2007
INTERNATONALLE DOG SHOW BRNO: Gima got CAJC,BOB. It is here 3.th CAJC and she realized qualification to be Juniorchampion of The Czech Republic.

12.05.2007
INTERNATIONALLE DOG SHOW BRATISLAVA - SLOVAKIA: Gima got CAJC SK.

02.05.2007
Lucky has examined HIP. The result it A/A.

29.04.2007
INTERNATIONALLE DOG SHOW PRAHA: Gima got second CAJC CZ. On this show were two children of our Bjornehusets Lucky and Deina Pikimusta : Aran and Anabela pod Troskami. Aran got CAC,CACIB, Anabela got CAC,CACIB,BOB and 3.place BIG. We are proudy of them and congratulation to their breeder and owner mr. Procházka!!!

25.4.2007
Lucky has eye test. The result is that eyes are clear without eye healthy illnesses.

22.04.2007
INTERNACIONALLE DOG SHOW ČESKÉ BUDĚJOVICE: Gima got here first CAJC CZ.

20.04.2007
Our Caroline gave birth to 12 puppies: 7 males and 5 females. They are nice, strong and powerfull. Proudy father of puppies is our Bjornehusets Lucky.


07.04.2007
We has passed with Lucky obedience triall: BH by SchH/VPG. Lucky was great, the judge very approbated him :o)

14.-18.02.2007
We has mated Caroline with Lucky, so we are looking forward puppies in April 2007.

29.01.2007
Lucky has got titul INTERCHAMPION.

22.01.2007
Lucky has got titul POLLAND CHAMPION.

13.01.2007
KLUB DOG SHOW OLOMOUC: Lucky has got at honesty class Excelent 1.
Gima at puppy class has got Very Promised 1.


9.11.2006
WORLD DOG SHOW POZNAN POLLAND: Lucky got at working class CAC, and he got titul the POLLAND CHAMPION. We are SOOO proudy of our little Lucky :o))

ON World dog show at Veteran class was showed Cedrik Pikimusta from our kennel too. Cedrik got Excelent 1, Best Veteran. We are happy and proudy of Cedrik with his owner Beata Grossek - Polland.

21.-22.10.2006
This weekend was very succesfull for as. Lucky got very nice show results on sathurday and sunday too:
Hungarian Grand Prix Budapest: CAC,CACIB,BOB.
Middle-East European Dog Show: CAC,CACIB,BOB.

9.10.2006
Lucky got titul SLOVAKIA CHAMPION.

24.9.2006
International dog show Wroclaw Poland: Lucky got CWC,res.CACIB.

20.8.2006
International dog show Bratislava, Slovakia: Lucky got CAC,CACIB,BOB. This CAC was last which Lucky needed to be SLOVAKIA CHAMPION!!

01.08.2006
Lucky is again proudy father. Mummy of puppies is female name's Agima od Starych dubu. She has bred 9 puppies: 8 females and 1 male. Agima is great hunter dog, she has passed 4 hunting trials. br>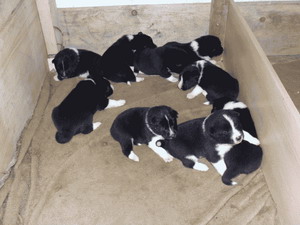 18.7.2006
Lucky got oficiall certificate THE CZECH CHAMPION

03.-04.7.2006
Our little puppy boys went to new homes. Girl name's Gima stays at home with us.

04.06.2006
International dog show Nitra: Lucky got CAC,CACIB,BOB

03.05.2006
Today were borned our new puppies.Mother is Caroline Pikimusta, father Arik Ostravicka Niva. Caroline has given birth to 2 males and 1 female. No much but beautifull! :-)

01.05.2006
Obedience trial Prostejov: Today has rained all the day but Lucky brave worked at this fall too. He got 133 points from 150 and he got sign well good.Oh, my clever boy :o}!!!

24.03.2006
International dog show Katowice-Polsko.Lucky got CWC, CACIB, BOB. And so he accomplished conditions to get titul INTERCHAMPION!!!!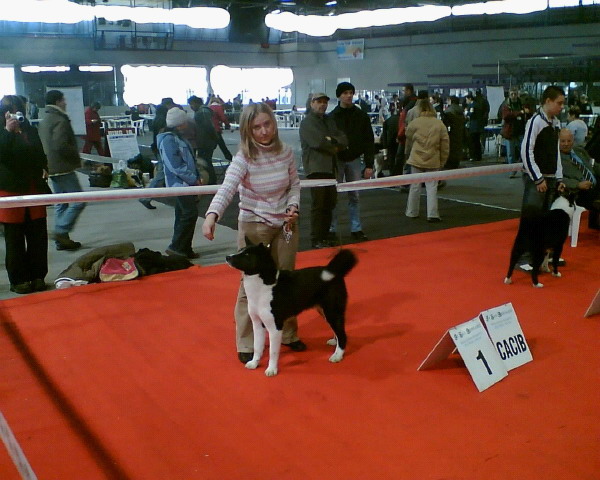 24.february 2006
Today we with our Caroline visited beautifull stud male names Arik Ostravicka niva to mate here.The action was succesfull so we are hoping for beautifull Carolina's puppies. They should born on end of April :o))


12.february 2006
Intenational dog show Brno: Lucky got CAC, res.CACIB

28.february 2006
International dog show Trencin-Slovakia: Lucky got CAC,CACIB

15.january 2006
National dog show Olomouc: Lucky got CAC, National vinner, BOB and 4.BOG!!!

29.october 2005
Lucky succesfully passed hunting triall of wild pigs!

9.october 2005
Internationall dog show Ceske Budejovice: Lucky got CAC, res. CACIB

28.september 2005
Lucky succesfully passed obedience exam ZZO. He has got 52 points from 60 points.He has got mark excellent.

20.august 2005
International dog show Bratislava: Lucky got CAC,CACIB,BOB

12.august 2005
Lucky succesfully passed obedience exam ZOP. He has got 96 points from 100!!!

July 2005
Lucky become junior-champion of Czech and Slovak republic.

May 2005
Lucky is first time daddy! Mummy of puppies is female comming from our kennel Deina Pikimusta:web.quick.cz/pmprochazka